Loud Lary Ajust takes home the Artisti prize for Artist of the Year at GAMIQ 2015
It is in a packed to capacity Bain Mathieu, in Montreal's centre sud, which was held Sunday, November 30 the tenth edition of GAMIQ, celebrating Quebec's independent alternative music scene. True to GAMIQ since its first year, Artisti is proud to present the Artisti award, a $1,000 cash prize to the Artist of the Year rewarding this year Montreal's Loud Lary Ajust.
Congratulations to the winners!
From left to right: Loud, Domlebo and Denis Courchesne (Artisti board members)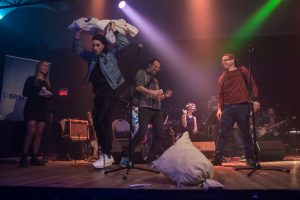 Credits: Myriam Francoeur
About Loud Lary Ajust: www.loudlaryajust.com
About Gamiq: www.gamiq.net