19th edition grand finale of Les Francouvertes
Artisti is happy to give the Artisti Grant, a 1000$ cash prize, to Charles-Antoine Gosselin, finalist in the 19th edition of Les Francouvertes on May 11, 2015 at the Club Soda in Montreal, awarding the best performance of the finale.
Singer, multi-instrumentalist and composer in the Anglo-band Harvest Breed, Sherbrooke's Charles-Antoine Gosselin enjoys a break from the band to present his solo works in French. With his experience, he offers a more introspective music that echoes in the English folk tradition, where he draws most of his influences than in the chanson française.
Following the footsteps of Neil Young and Nick Drake, Gosselin's songs are meant like short films – incursions in the intimate way he looks at human relations. His world is of contrasts, where loneliness meets the crowd, where the city merges with the size of the countryside. Seeking efficiency through simplicity, his songs are stripped of all artifice to their simplest form, where the emotion of this performer known for his voice and onstage intensity is revealed.
For additional info: https://www.facebook.com/CharlesAntoineGosselinMusique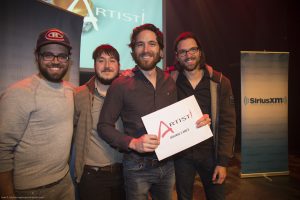 From left to right: Renaud Gratton, Jérôme Dupuis-Cloutier, the winner Charles-Antoine Gosselin,and Marc-André Gosselin, the musicians on the solo project of Charles-Antoine.
Photo : Jean-François Leblanc